A.O.F.B. Tankards

There were several different types of tankard produced ; E.P.N.S. tankards by the Birmingham Medal Co., pewter tankards by Liberty under the Tudric brand and ceramic tankards by the Ashteads Potters.
The E.P.N.S. tankards by the Birmingham Medal Co and was priced at 25/- ( £1 5 shillings , £1.25 decimal) for a pint pot and 15/- ( 15 shillings , 75p decimal ) for a half pint pot . The tankards had the A.O.F.B. cufflinks "welded on" and could have a badges of rank (if eligible) added for a shilling ( 5p decimal). The Birmingham Medal Co. also offered an engraving service for the tankards at 1d per large letter and 9d per dozen for smaller letters.
Birmingham Medal Co. manufactured tankards - photos courtesy of Paul Turner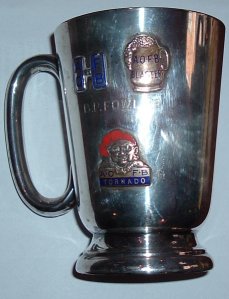 Pint Tankard of Tornado BP Fowler Half pint tankard of Norman Turner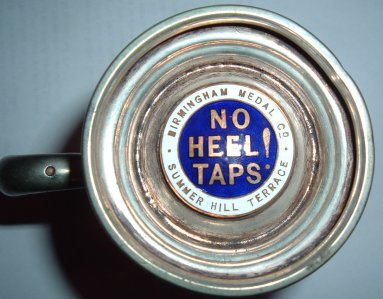 The underside of the tankard showing detail enamelling.
Tankard of Monsoon Geoffrey Clayton . This truly unique tankard has the cufflinks, fairy belle band,
blaster badge, tornado badge, monsoon badge and dog collar soldered on.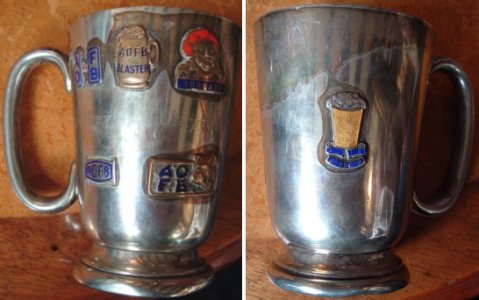 Pictures courtesy of Mike Maidment
Monsoon tankard of Jack Simms of the The N. & M. Club Vat ( Naval & Military Club Vat ) Southend on Sea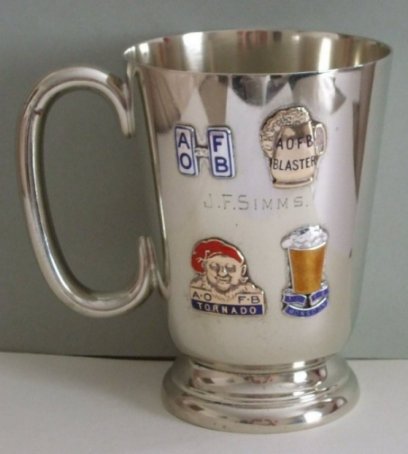 Half pint tankard of HJ Bensley with pint tankard of T.M.
Liberty's
Liberty's produced pewter tankards under their Tudric trademark.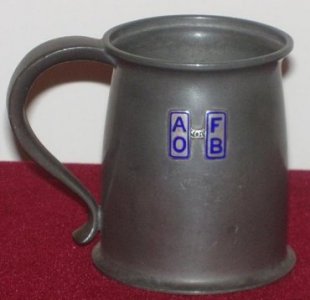 Picture courtesy of Brian Kilmister
Click here for a hi-res version 60 kb

Ashtead Potters
Ceramic tankards were manufactured by the Ashtead Potters. They were available in 2 different sizes, 3 designs, standard ( J32 ) at one pint and a third
( a pint for beer, a third for the froth ) and the larger Blaster ( J33 ) and Tornado ( J34 ) sizes at 2 pints ( quart pot ).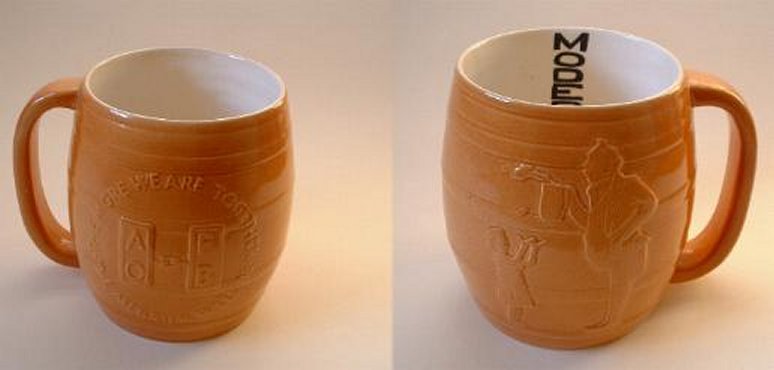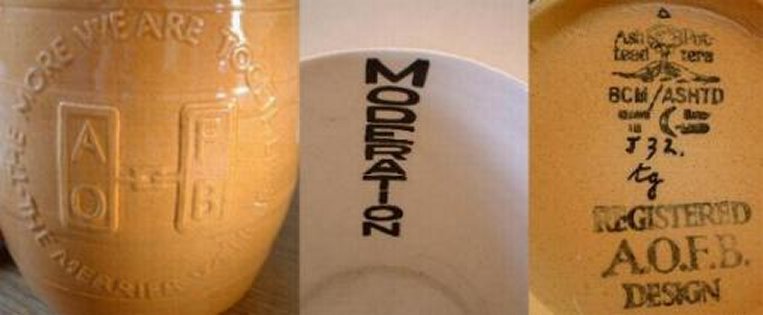 Pictures of the standard J32 reproduced by kind permission of ashteadpottery.com

View showing the Blaster badge on the J33 and size comparison to the J32 standard pot
Click here for a hi-res version 415 kb

View showing the Tornado J34 version - personalised to Harold Fox with Standard J32 personalised J.H.W.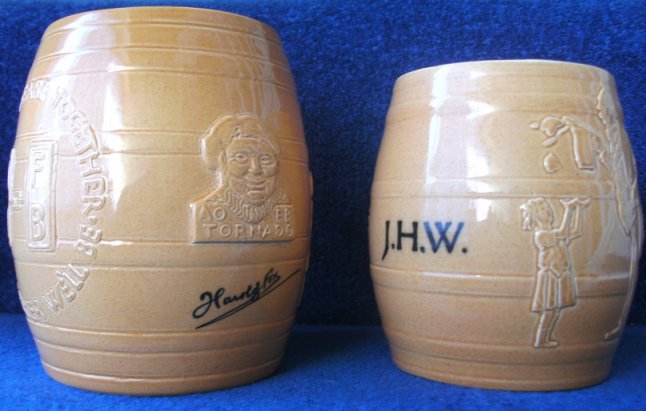 Click here for a hi-res version 976 kb


Interestingly both Ashtead Potters and the Birmingham Medal Co. employed large numbers of ex-servicemen (many disabled with injuries from the Great War) in the manufacture of the goods. One tale involving the Ashtead Potters concerns two lifelong friends, who grew up together and served together in the Great war, both sustaining injuries. One lost a limb and the other had a severe impediment. They worked for Ashtead Potters, one throwing the clay and the other working the treadmill as they could not produce the pottery by themsleves.
---