A.O.F.B. Cufflinks
The cufflinks came with the Membership 'Book of Ritual' as part of the life membership to the A.O.F.B. and were to be worn 'on all occasions of festivity, or thirst'. Originally issued to females as well as males, they were 'later replaced' by a Fairy Belles Wristlet for female members as the Order expanded.

Cufflinks on original card as supplied with the Membership card / book
The cufflinks were made of silver with blue enamelling, and were manufactured by the Birmingham Medal Co
The early cufflinks had a single link and were prone to breakages, the issue was quickly resolved by replacing the single link joining the two halves with a chain.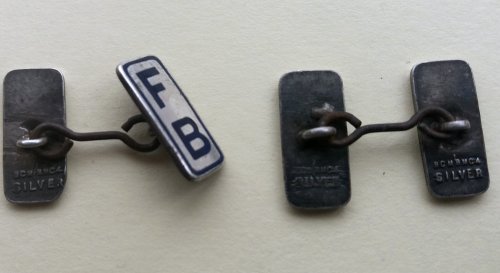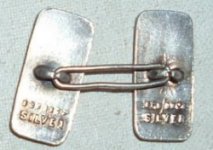 Crudely replaired cuffink - again as a single fixed link.
Picture courtesy of Paul Turner
The wearing of cufflinks when attending a Vat meeting or ceremonial occasion was checked by 'shooting the linen' – standing and thrusting the arms forward so that shirt cuffs were 'shot forwards' from jacket sleeves exposing them. Failure to wear the cufflinks could result in a forfeit or monetary fine. Forfeits included having to buy 'drinks all round' or telephoning a random number and singing the Froth Blowers Anthem.
In Bert's usual jocular fashion, the membership book stating that the cufflinks need not be worn under the following circumstances: 'When there is only water or cocoa on the table and no beer within a 125 mile radius, when undergoing – surgical operations, pack drill, competing for light weight boxing championships, riding the favourite in the Derby, testing giant super bombers, playing Crown and Anchor, picking pockets and other kindred sports for which a blue is not awarded. 'Crossing the Barman' is un-ceremonial and links should be removed with shirt'. Cufflinks will not be worn with Oxford bags or Borstal Blazers. Special permits will be issued for wearing A.O.F.B. cufflinks in the U.S.A.'
In the very early days the Birmingham Medal company produced around 800 pairs of cufflinks a month – rising to a peak of 2000 pairs per day. There were modifications and tweaks made along the way with slight variances appearing in enamel colouring, chain, chain clasp and manufacturers markings.


Differences in chain, chain clasp and manufacturers mark

The cufflinks cost 2/- 8d (2 shillings 8 pence ) to produce. The balance sheet in the membership handbook from between November 10th 1926 and Jan 31st 1927 shows that 130,000 pairs of cufflinks were delivered to the A.O.F.B. Due to the quantity ordered and prompt settlement, a rebate of £2500 was given, a reduction of 1d ( penny ) per 52 pairs of cufflinks, further swelling the A.O.F.B. funds. The cufflinks were also "welded" onto silver plated tankards supplied by the Birmingham Medal Co. and could also be 'welded' to other A.O.F.B. items such as cigarette cases and match safes.



Gold cufflinks were also made and presented to Grand Typhoons of the order ( those that had recruited over 1000 members to the A.O.F.B. ). A report in the Sporting Times stating ' Jack Haes ( the Cloudburst ) was presented with a pair by Sir Alfred Fripp upon promotion to Grand Typhoon after recruiting over a 1000 new members in 6 weeks, he went on to recruit approximately 6000 members.
Bert Temple had a 'special' pair of gold cufflinks presented to him by Hal Stewart Turner ( himself a Grand Typhoon and Managing Director of the Birmingham Medal Co.) – one link featuring the usual AO - FB the other BT - No0 – (Bert Temple No0 A.O.F.B.).
As of October 2017 there have been 42 Grand Typhoons of the A.O.F.B. identified so there were probably less than 50 sets of gold cufflinks made.
---