The Ancient Order Of Froth Blowers Anthem.
The A.O.F.B. Anthem is based around a traditional Austrian folk tune from around 1768. The original song " Ach du Lieber Augustin" tells the story of Augustin who consumes too much wine and passes out at the side of the road during the great plague. He is mistaken for a dead man and loaded onto a cart with plague dead, only to wake up in the mortuary later startling the attendants.
The more we are Together Lyrics
There were lots of versions of the anthem released over such a short period of time - testament to the songs popularity.
This list is far from complete - many versions have not yet been found but are known to exist.
Clarkson Rose version
Fred Gibson version
Jack Charman version
Talbot O'Farrell version
Harry Bidgood version
Bert Firman version
Geoffrey Gelder version
Alfredo version
Stan Greening version
Jay Whidden version
Ronnie Munro version
Leo Mathison and Victor Cornelius version
Nat Shrilket Victoria Orchestra version
Russ Morgan version
Savoy Orpheans version
Harry Reser Jazz Pilots version
Harry Reser Orchestra version
BA Rolfe and His Palais D'Or Orchestra
Six Jumping Jacks with Tom Stacks version
Billy Mayerl version
Victor Sterling version
The A.O.F.B. also inspired a music hall song called ' I'm one of the Old Froth Blowers ' by Nat Travers.
Nat Travers
I'm one of the Old Froth blowers Lyrics
The More We Are Together Sheet Music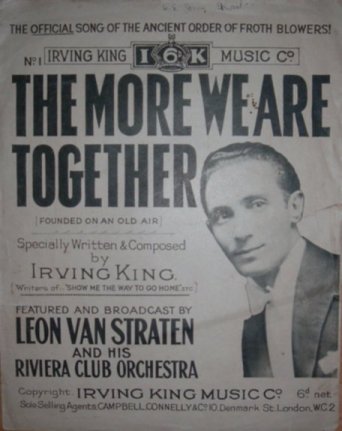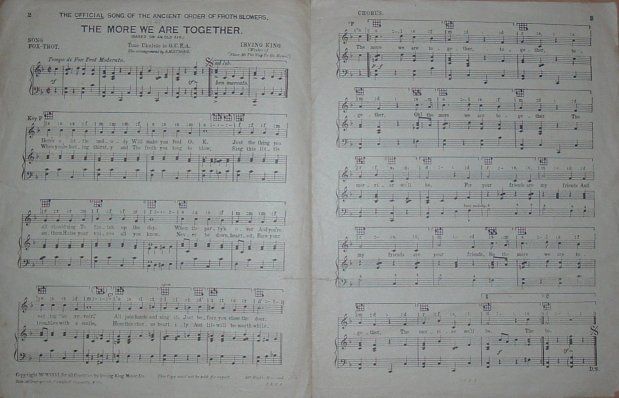 ---