Bert Temple's Personal A.O.F.B. Regalia
When Bert Temple passed, he bequeathed all of his wordly goods to faithful A.O.F.B. Secretary Dorothy Roper, the Gentle Zephyr. Without a doubt, Dorothy was 'a love that could not be', Bert knew he was dying and encouraged Dorothy to move on with her life, although she clearly loved Bert too. Dorothy tried to move on to the point that she married Richard Sheppard in a very short lived marriage back in 1926, just as the A.O.F.B. started to take off. Dorothy could not bear to be parted from Bert and threw herself into the role of A.O.F.B. Secretary and was the real driving force behind it.
Dorothy never forgot Bert and placed In Memoriam notices in newspapers, including the Times, up until her passing in 1984. People that knew Dorothy, affectionately known as Dolly, in her latter years, tell how she often referred to him as 'her Bertie' and were surprised to find that she had once been married, still devoted to him 40 years after his passing.

Some of Bert's regalia was 'redistributed' by Dorothy over the years, Bert's personal tankard being engraved and awarded to Major D T Oxford some time in 1952 and making it's way to Australia before returning to the UK on the passing of Major Oxford son in 2008. The current owner has kindly loaned the tankard out on several occasions.

When Dorothy passed the remainder of the items of Bert's regalia then passed to Dorothy's sister Gladys, The Welcome Breeze, who assisted Dorothy with her A.O.F.B endeavours. When Gladys passed, Bert's ( and items of Dorothy's ) regalia found it was to an antique dealer in Kent and lay forgotten in a box for the best part of two decades.
Bert's Chain of Office
A standard Chairman's Chain with A.O.F.B. No. 0 instead of Chairman on the scroll title. The cufflink is gold coloured (and possibly gold ) as is the attached hop leaf. All Senior officers of the A.O.F.B. Committee had the right to a hop leaf on their chain of office and many also had them in the form of a medallion on a ribbon. A picture of Breeze Vertical Stephen Jolly showing both can be found here on the Chairman's chain page.

Another known example of other Chains of Office being produced was one bearing Grand Typhoon instead of Chairman was made and awarded to Commander Charles Kettlewell, an ex Naval Commander who became a ships Captain for P & O on the routes to and from Australia and New Zealand, who was instrumental is signing up thousands of members of the A.O.F.B.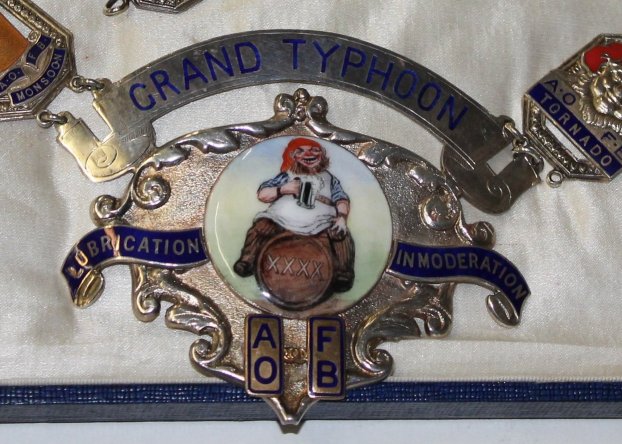 Bert's Car Cufflink
Bert had a large cufflink attached to the front radiator grill of his car.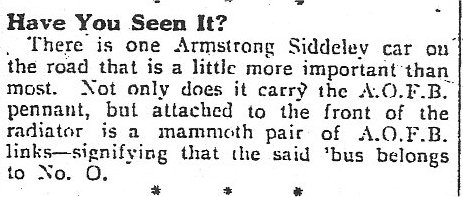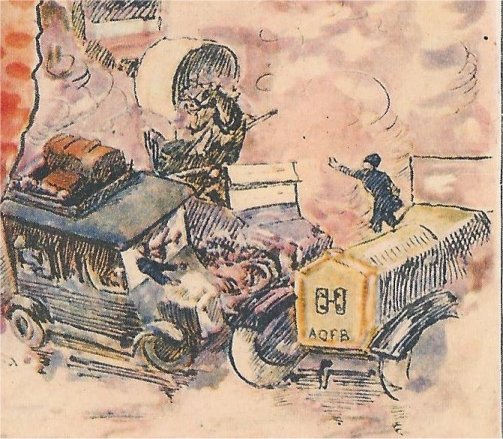 Sporting times Newspaper clipping from 3rd September 1927 Graphic from the Crocodile Cruise book
Bert's Scrounger Medallion
The two chief Grand Scroungers for the A.O.F.B. were Fred Desborough and Fred Harling. The medallion belonged to Bert and the hand written £30,000 matches known examples of Bert's hand writting.
The value of £30,000 written in would date the medallion to between December 1926 and April 1927.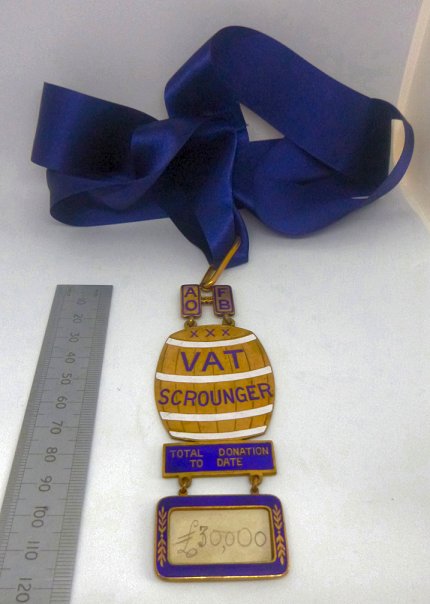 Bert's ashtray
Bert's ashtray features a motorcycle sized mascot in the centre of a 4 inch EPNS tray.
Bert's ashtray Birmingham Medal Company leaflet showing mascots and mascot ashtrays
Comparison of Bert's ashtray alongside the larger car mascot in the centre of a 5 inch tray.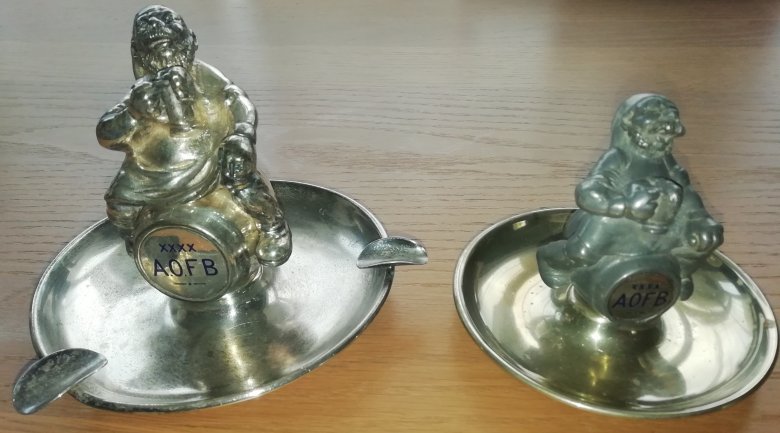 Bert's motorcycle mascot
There are two motorcycle sized mascots in Bert's personal items of regalia. The one comes with the original bracket to affix it to cycle handlebars.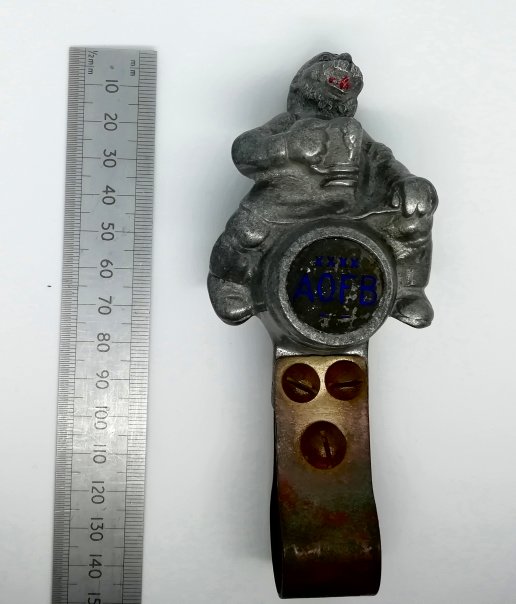 Bert's Bottle Stopper
A modified motorcycle sized mascot designed as a bottle stopper.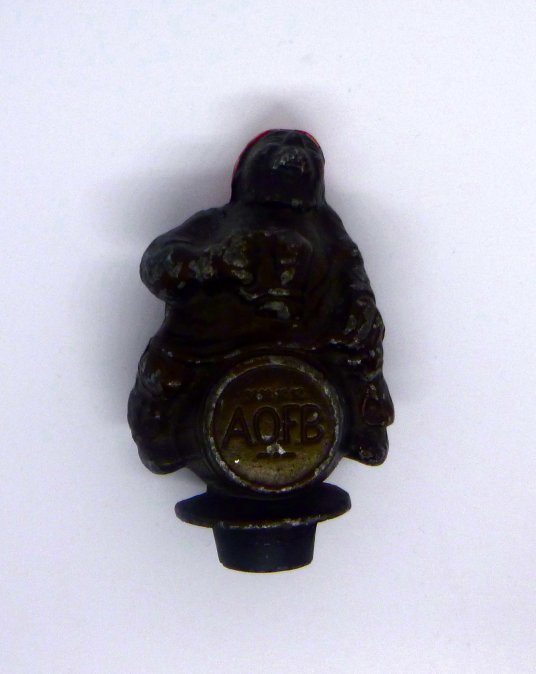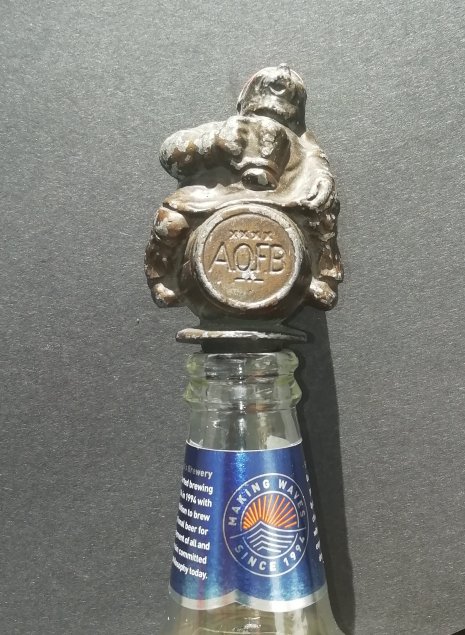 ---