Swan Supping Sunday
An account of the wetting of CAMRA's ' Pubs in Time plaque. By David Woodhead.

The Swan Inn, Fittleworth
On Sunday 30th April, 2006, a select group of Friends of the Froth Blowers gathered to record the important part played by Froth Blowers, old and new, in making The Swan one of the first pubs to be recognised by CAMRA as a place where 'events of historic interest' have taken place. The brown plaque commemorating Ye Ancient Order of Froth Blowers and the fact that The Swan was Bert Temple's 'No.0 Vat' was sent to the landlord, Paul Warriner, in mid-March, and immediately fixed to the wall by the entrance to this six-hundred-year-old building.
In December, 2005, I had been contacted, through Steve Williams and the Pub History Society, by the CAMRA co-ordinator, Simon Davies (a visiting fellow and lecturer at the London School of Economics), to locate a hostelry where the A.O.F.B. may have been said to have been founded. I have no idea why Bert should consider a place forty miles from home his No.0 Vat, and it is not the first hostelry on the list – the Carlton Hotel Vat is (second to the Sporting Times Vat) - but for CAMRA, and me, this was the most appropriate place to record the existence of an Order dedicated to golloping beer with zest. It is, superficially at least, the quintessentially English village pub.
Having given Simon Davies the name and address of the pub, its part in the A.O.F.B.'s history, 'improved' wording for the plaque, and a promise to be at CAMRA's presentation evening, I sat back and waited for their invitation. At the end of March I rang Paul Warriner to find out when the event was, to be told that it was the next night. A few local CAMRA members apparently turned up, had a beer, and went, saying to Paul that they would contact me. I have not heard from CAMRA either then or since.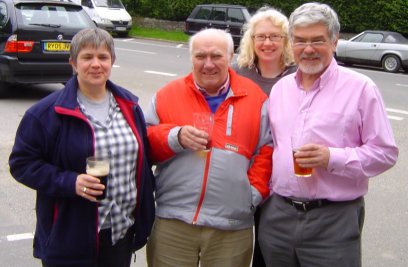 So, five F.O.F.B.'s met to redress this omission: Heather, Geoff, Hannah, Dave (and Chris on camera). After introductions, we settled over our pints to peruse the Swan's old Visitors' Books, full of ink drawings and lines of spontaneous verse – as well as treasured autographs of leading Froth Blowers who attended dances and fishing-trips at The Swan in the late 1920's.
We ate a fine lunch at our leisure – more 'haut cuisine' than the usual 'drinker's blotting-paper' – while Chris revealed a hidden talent for artistic portraiture and added sketches of us all to illuminate our autographs in the newest Visitors' Book. We hope this might revive a forgotten tradition so apparently dear to our ancestors.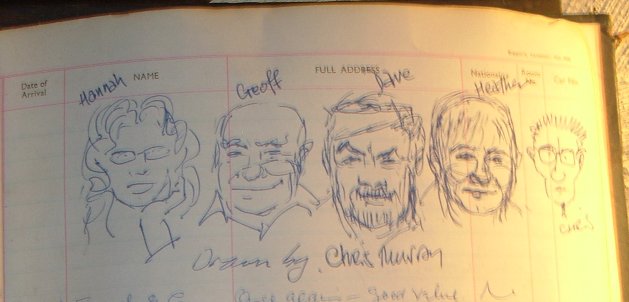 The final moments of our visit included thanking our very helpful host and his staff, dancing on the 'green' (i.e. parking-lot) with passing hikers, and singing 'The More We Are Together' in front of the new plaque. Having done this, we feel we have well-and-truly 'wetted the plaque'.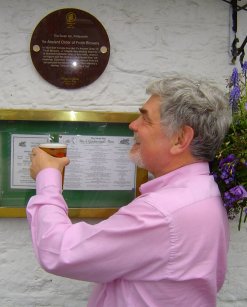 Dave Woodhead raises a glass to the plaque.
Any F.O.F.B. wishing for a relaxing day out could do worse than visit North Sussex and drop in on The Swan, near Pulborough, there are several things Bertish if you look around.
Despite your rudeness, 'thank you, CAMRA!'
LUBRICATION IN MODERATION

D.L. Woodhead 2006
Updated 2011 - removed reference to the licencees who have changed.
---