The Life & Times of a North East Wales Master Blower by David Rowe
Henry Darbyshire (1878 -1949)
As a local historian and a Geordie by birth I have a natural interest in the brewing and sampling of good beers and this was taken further when in 2009 the History Press commissioned and published my second book entitled 'Flintshire Pubs and Breweries'. Contrary to popular belief this was not an exercise in self indulgence as sad to say many of the 700+ pubs identified no longer exist and therefore much of the research was carried out in the 'dry' County Record Office and local libraries with major input from various individuals and local history societies. It is also very sad that during this extensive research I found no local reference to the Ancient Order of Froth Blowers and indeed was totally unaware of its existence until following a talk to a local organisation I was approached (in the nicest possible sense) by a young lady whose family had been licensees and owners of pubs/hotels. She explained that she had many family papers and photographs related to their businesses and would I be interested in looking at them. This opportunity was better than someone offering me a free pint of 'Sneck Lifter', 'Black Sheep', Facer's of Flint 'Flintshire Bitter' or one of the other real ales now available and so we arranged to meet. The result was a brimful of fascinating documentation along with AOFB memorabilia and this triggered both our interest and funny bones. We dipped into the wonderful madcap world of this irreverent charitable organisation and my Flintshire pub talks now always contain a piece on AOFB and this is always well received. However, we have not yet managed to persuade a local landlord to start up a VAT.
Enough of the general background and let us consider the founder of one of the four VAT's that existed in Flintshire held at the Central Hotel, Shotton, the others being held at the Market Vaults, Mold and the Swan and Hawarden Castle in Flint.
However, our story begins not in Flintshire but in the Seven Stars Inn.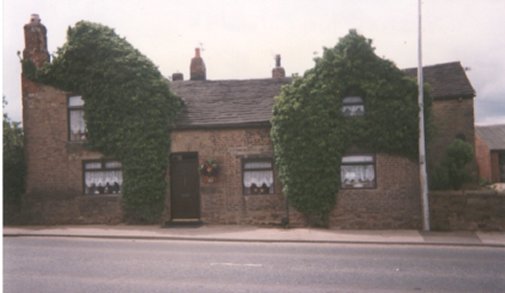 Seven Stars Inn
The pub and farm at Standish Nr. Wigan were in the Darbyshire family from at least the 1700s and Richard Darbyshire (1844-1915) was the licensee of this and the Black Bull at Standish prior to moving around 1882 to the Glynne Arms Hotel at Hawarden, Flintshire.
Richard Darbyshire
was quite a character, a strict teetotaler and any member of staff caught drinking would have felt the full force of his views on drinking. He was also an extremely tough business man but so well respected he was even featured in an 1898 article in The Strand Magazine about the
village
of
Hawarden
following the death of the former Prime Minister and local resident William Ewart Gladstone. It reported on his love and care for animals when such things were not the norm and the warm relationship he enjoyed with
Gladstone
and in particular the Grand Old Man's respect for his treatment of the horses for hire.

Richard Darbyshire
The article describes the Richard as 'somewhat of a character' and 'long may he reign'.
Married to Mary Ann Wynne in 1868 they went onto have five children James, Jack, Maria, Elizabeth and Henry.
In 1901 Richard had a meeting at the Glynne Arms with James Hampson of Stafford House, Hawarden, manager of the Aston Hall Group of Colleries and a Mr Robert Price of Hawarden. Trial bore holes they had previously initiated at the Wepre estate on Deeside identified a rich seam of quality clay and as a result they formed the Wepre Hall Brickworks, (brick, pipe and tile manufacturers) but at this time Richard also made the decision to continue to run the Glynne Arms.

The Glynne Arms
The once proud historic hotel currently stands empty but I understand that there are plans to get it reopened but lets hope it does not fall into the hands of 'The Peoples Refreshment House Association Limited'. They were the licensees in 1906 and although alcohol was available this was not displayed and customers would have to ask for liquor and it was then sold at inflated prices. Even the New York Times on September 5th 1904 ran an article on the movement suggesting that the USA followed suit. So who was behind such an organisation? I understand the Bishop of Chester supported its aims as did a Quaker philanthropist called Charles Booth (1840-1916).
Born in Liverpool Booth formed his own shipping line in partnership with his brother Alfred in 1866 ; all the ships were named after saints and this line became part of the Blue Star shipping in 1975.The line operated a service between the UK and Northern Brazil and the Amazon. He was also extremely concerned about the working man and subsequently produced a number of reports including one in 1889 where he identified that 35% of the families living in London were in a state of abject poverty and he also led a movement for the establishment of old age pensions for everyone.
To return to our main character that of Henry Darbyshire, he did not initially finish his apprenticeship as he was allowed to postpone the last year to enable him to join the Imperial Yeomanry Sharpshooters in 1900 to fight in the Boer War.

Henry Darbyshire
He survived the war and a newspaper report of the time states ' The return home of Henry Darbyshire (Cheshire Yeomanry) was welcomed by a great many friends on June 15th. The Volunteers accompanied him from Sandycroft Station, and Lady Frederick Cavendish handed over the presentation watch. The reception committee wish to thank the subscribers most heartily for their generous support, and to add that they now have sufficient funds for this purpose.'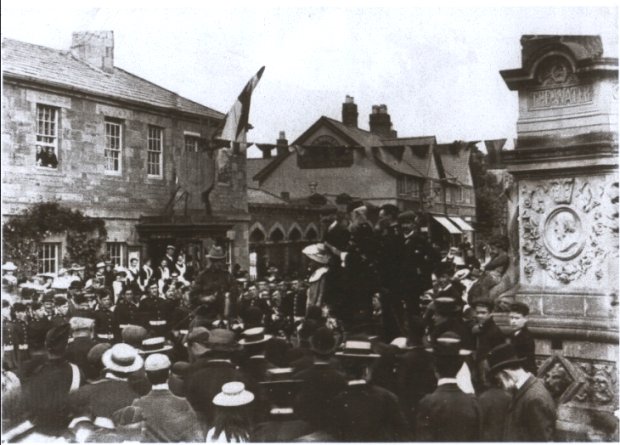 The presentation to Henry Darbyshire
Henry went back to the foundry and completed his apprenticeship before moving to the United States of America where he worked for Oldsmobile in Detroit before returning to Hawarden in 1910.
A keen footballer, a member of the Order of Buffaloes, a Freemason of the St. Deniol's Lodge in Hawarden and as we will hear later the founder of an A.O.F.B. VAT.
Another character then appears on the scene, that of Inspector John Conquest of Scotland Yard. One of two armed detectives sent from Scotland Yard to Hawarden to guard the then Prime Minister W. E. Gladstone (whose home is in the village and remains the family home today) because of the Irish threat and in an article associated with the North Norfolk Railway there is a wonderful reference to the good Inspector. "King Edward the Prince of Wales and other titled travellers like the Duke of Clarence and Empress Frederick travelled in the style of the characters in Murder on the Orient Express ….whose entourage included 'Poirot style characters' like Inspector Conquest of Scotland Yard.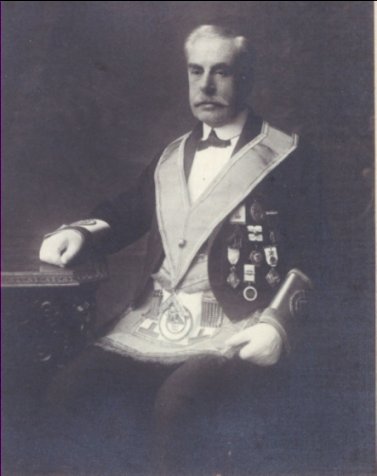 Inspector John Conquest
So what is the link with the Darbyshire family other than it is likely that the Inspector stayed at the Glynne Arms. During his stay he was visited by his daughter Mary Ann Emily (known as Emily) and in 1913 she and Henry married in London.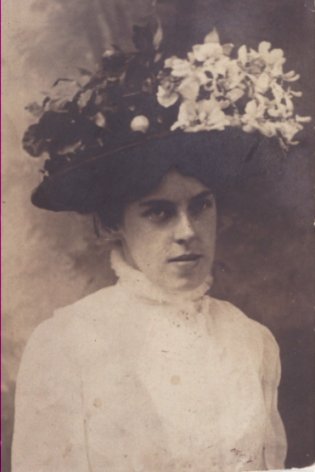 Mary Ann Emily
In the family papers was a note that said his father had forbidden him to marry so when Henry went to marry the pictured Emily on the 25th March 1913, he told his father he was going to London for a few days to watch the semi final of the FA cup match on 29th March between Aston Villa and the team he supported Oldham. Henry probably did not know or possibly care but for you football fans Aston Villa won 1-0 and then went on to beat the 'Mackems' of Sunderland 1-0 in the final in front of a crowd of 120,081 at Crystal Palace. Richard must have forgiven Henry as the couple quickly returned home for the grand opening of the Central Hotel, Shotton
By 1906 Richard had decided to retire from the Glynne Arms and concentrate on the brickworks but he also wanted to create a legacy for his sons by building the Central Hotel in Shotton. It apparently took 15 years overall to obtain the necessary planning permission but using bricks from the families Wepre Hall brickworks building work commenced in 1909. Although he had three sons, one son, Jack had married well and was living in Canada but James and Henry assisted their father with the new project. By 1913 Richard left the running of the Hotel to his sons and he died 1915. James was the first to live at the Central Hotel, whilst Henry commuted each day by train from Hawarden, but it was not long afterwards before James left and Henry and his family moved to Shotton.
The hotel was ideally placed for the workers from the nearby Summers Steelworks (now part of TATA organisation) and many steelworkers would call in for a drink on the way to work. After work the place would be full and before the smoking ban thick smoke would be the order of the day. As was common until not so many years ago, the lounge bar would be much more of a formal room whilst the bar was complete with its spittoons. Permanent live-in staff were employed and Henry's sister Maria an accomplished cook took charge of the catering staff and the handwritten recipe book is still in the family.
It was at the Central Hotel that Henry formed the AOFB VAT and according to the only available records he was listed as a Master Blower. Sadly as for many VATS detailed records of members or their offices have not survived. However, Henry did retain some of the memorabilia including his AOFB Blaster badge and cuff-links and these are now in the possession of the lady who instigated this story, his grand-daughter Sue Phillips, and who still lives in Hawarden.
Sadly the depression took it's toll of many businesses in the 1920s and 1930s and it is mark of the character of Henry that he was known for his generosity during these difficult times. He sold drinks and food on an IOU basis and he also helped local people in desperate need of coal by filling their prams with any available coal. Sadly the situation could not continue and eventually Henry was forced to part with the Central Hotel & Brickworks and the family moved to nearby Ewloe with the ever hard working Henry going to work at Summers Shotton Steelworks.
He remained active publicly serving for a period as Councillor for the Shotton Ward on Hawarden Rural District Council but at the age of 69 he suffered a stroke which resulted in him losing the power of speech. This did not prevent him from continuing to work at the Steelworks until he was 70 when he finally retired, but shortly after retirement, he suffered a further stroke which left him bedridden for a year prior to his death. The Newspaper Obituary, although complimentary, could not in way reflect the full story of this caring and remarkable man. One of his three children Stanley went on to be landlord of the Blue Bell, Hawarden and the Druids Inn at Llanferres in Denbighshire.
The Central Hotel has had a mixed life since being sold out of the family and contrary to popular belief it is not a listed building therefore there was real concern the pub would be eventually be demolished . Love them or hate them, J.D. Wetherspoon stepped in and bought the building spending over £1 million restoring it and it was formally reopened in August 2010 so hopefully it's future is secure.
Henry Darbyshire would have been delighted with this outcome and probably would be even more pleased if an AOFB VAT once again operated in the area.
As a footnote I gave another talk on Flintshire pubs at a Society in nearby Buckley and lo and behold one of those present had been given a set of AOFB cuff-links from an American relative but she had no idea what they were related to. The second co-incidence was that she and her husband had both travelled in the 1950s on the RMS Edinburgh Castle and as you well versed 'blowers' will know this was the ship on which Fred G.E. Pocock 'The Grand Overseas Scrounger' and 'AOFB Ambassador to South Africa' served as an officer.
I would like to thank Sue Phillips for making her family papers available, her great enthusiasm and support in bringing what I hope is the first of many chapters to this wonderful story. If anyone can add any further information on the organsations activities in North-East Wales we would love to hear from and can be contacted on david@daverowe.co.uk
David Rowe
Mold
Flintshire
---