A.O.F.B. Cot Plaque


Some of the A.O.F.B. funds were used to provide hospital cots for Wee Waifs and each cot bore an bronze A.O.F.B. plaque. There was no UK National Health Service in the days of the A.O.F.B. - the provision and annual running costs of a single cot was around £500 per annum.

Bert Temple was keen to provide more and issued A.O.F.B. stamps ; to be used for sealing correspondence, and he hoped that all members on the Order would buy a booklet of stamps, if they did it would have raised enough funds to provide another 130 cots.

Overseas cots were also endowed although these were locally funded; cots being provided in India, New Zealand, Australia, Tasmania and seven cots in Durban, Natal.

Here is a list of UK hospitals known to have had A.O.F.B. a cot ( or several ).

Kings College Hospital, London
Queen Mary's Hospital, London - two cots
Birmingham Childrens Hospital , two cots
Rugby Hospital , this was believed to have been raised and endowed locally
Royal Orthopedic Hospitals and Cripples Union - 'Woodlands Birmingham'
Royal Orthopedic, London
General Lying-in Hospital, Waterloo, London
Royal Hampshire County Hospital, Winchester
Royal Alexandra Hospital for Sick Children, Brighton
Kings Lynn Hospital, three cots, two of these were endowed locally
Stamford Hospital, see below - bottom of this page
Royal Hospital, Sheffield
Winchester Hospital
Northampton Hospital
Leicester Royal Infirmary ,
Bradford Childrens Hospital , two cots - the pictures above are of one of the plaques from here
Heartease, West Wickham, seventeen cots
Peterborough Hospital
Southend on Sea Hospital
Rochester Hospital
Manchester Royal Infirmary, two cots
Royal South Hants and Southampton Hospital



Overseas Hospitals known to have had an A.O.F.B. cot



Childrens home of Recovery, Isipingo, Durban, South africa
Hospital of Port Elisabeth, Mussleburgh and Capetown, South Africa

One UK hospital still proudly displays a cot plaque. It has been moved from it's original location on a cot and is now on show in the entrance to Stamford Hospital along with other plaques on investitures.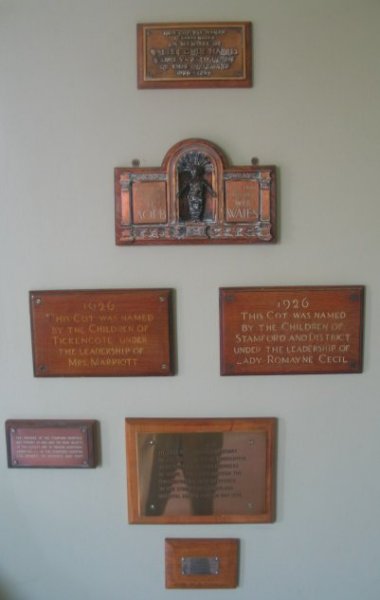 Pictures courtesy of David Woodhead
---